Thursday, September 1, 2011
2:18 PM
|
Posted by Amanda Wesley
Today's post is brought to you by the letter coffee and the number caffeine. I have been at this blog thing for a couple of days now. Re-learning all of the things I've forgotten over the years about computers and networking like a crazy person! With three books waiting to be reviewed, three kids and a husband demanding dinner (and not just the box of pizza rolls that are tempting from the freezer), and the loads of laundry that may or may not have just moved, I'm ready for the weekend!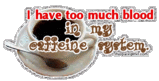 I am happy to report that I have tweeted more in the last week than I have since I started twitter about 6 years ago. I have also made a button for this blog. You can go ahead and grab that while you are here. First twitter party was a success and I had the pleasure of meeting some really great people for without which I might be crying in a corner right now. The down side, I didn't finish any books (or dishes) last night.
So, I guess that's it for today. Thank you for everyone who has stopped by and said hello. Thanks for all of the advice. Please keep it coming! Till next time, Amanda
About Me
Amanda Wesley
View my complete profile

Network It!

Book Challenge
Amanda
has read 0 books toward her goal of 100 books.

Blog Archive